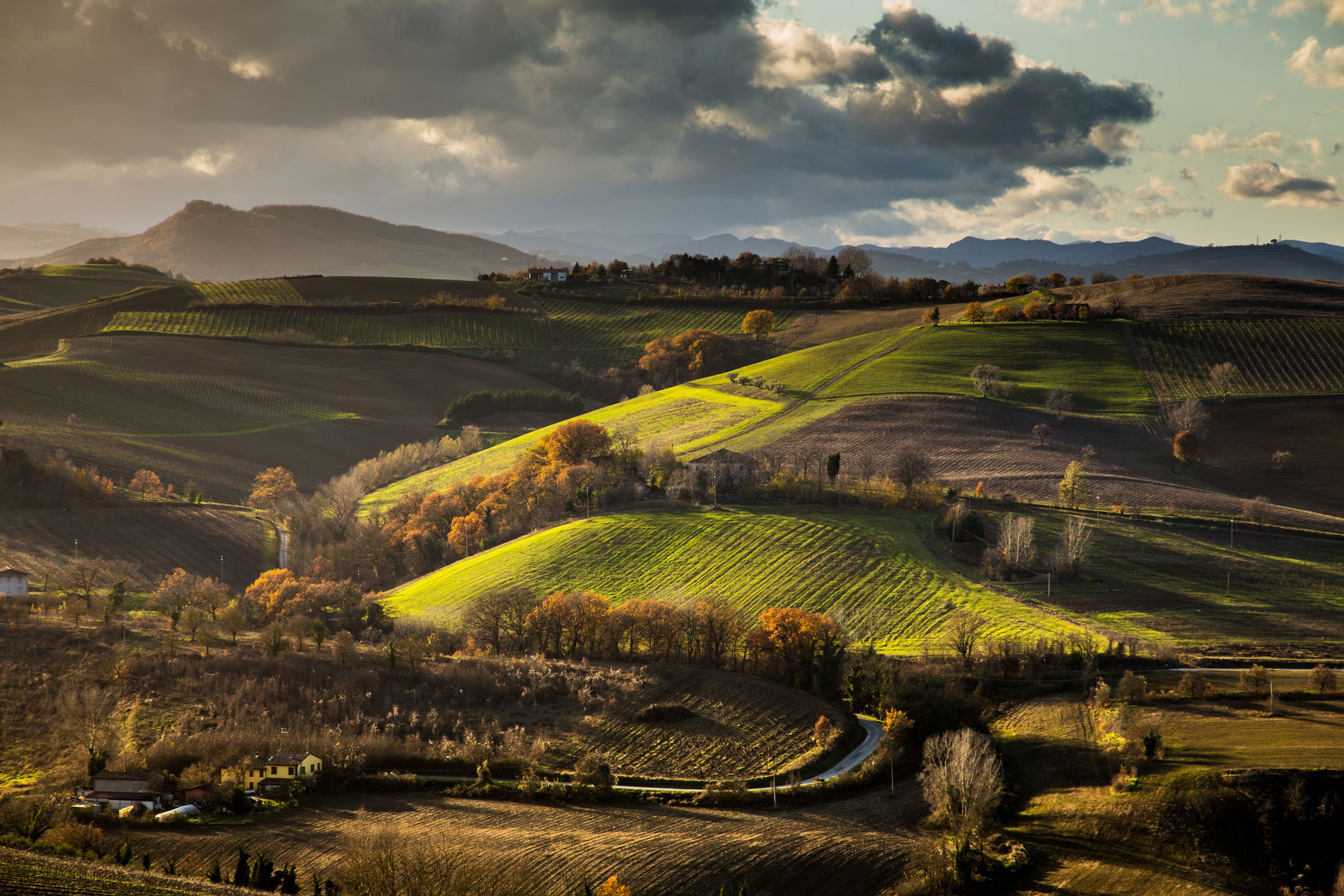 With multicoloured, gentile rolling hills naturally suited for coltivating vines, Romagna is a land of conviviality and bonhomie.
The poet and artist Tonino Guerra described Romagna as a land of rolling hills and rural traditions, welcoming and genuine like the people who live there.
A happy winemaking tradition has developed in the hills of Romagna, thanks to the soil composition, the proximity of the sea and an especially auspicious climate: all favourable elements for growing grapes suitable for making wine.
The Conti family chooses to plant their vines, in the foothills of the Romagna Apennines, just a few kilometres outside of Faenza. The farm includes 22 hectares of vineyards in-between wooded slopes, gullies and olive groves. Biodiversity is a defining characteristic of our land and at the core of the Leone Conti winery. Our wines embrace and represent the biodiversity of the place they come from and the varietals which make them.
VINES
in order to best represent the quality viticulture of Romagna, we choose to work mainly with traditional and indigenous grapes. Some of our white grapes are:  Albana, Famoso, Trebbiano and Uva Ruggine. Red grape varietals include: Sangiovese, Centesimino and Termarina.
ALBANA
The origins of this vine, certainly one of the most representative of Romagna, are so ancient they could be confused with legend. Indeed it seems that Galla Placidia, daughter of the Roman emperor Theodosius the Great, was among the great admirers of Albana. Legend has it that, during her visit to the hill town Bertinoro Galla Placidia was given a terracotta cup full of Albana and upon tasting it she exclaimed "Not so humbly should you be drunk, but drunk from gold". Hence the name of the town Bertinoro, Ber-drink ti-you in-in oro-gold, drinkyouingold.
Albana always featured on rural tables and is still very much loved and appreciated for its floral fragrances and full-bodied structure.
It is a wine close to our winery's heart. We like it so much we make three versions: Progetto 1 – traditional and dry, yet sophisticated; Progetto 2 – innovative with an international flair, late harvest with botrytis cinerea, aged in barriques; Progetto 3 – an old fashioned Albana revisited with the advent of modern technology, extended maceration (4 months) aged in third passage barriques.
FAMOSO
A happy rediscovery of the last decade, this vine is very resistant but produces a limited quantity of grapes. Leone Conti reclaims this long- forgotten indigenous grape, creating Le One. An aromatic wine, tempered by fermentation and ageing in barriques,  giving it richness as well as aroma.
RUGGINE
The rust grape (Uva Ruggine), also known a Rugginosa, had practically disappeared even though it was popular in the region until the 1930s. The last known Ruggine grapes were growing in the province of Modena, preserved by a judicious winemaker. Fortunately we can still appreciate its yellowish glint and fresh floral, fruity notes. 
SANGIOVESE
Sangiovese is said to be the quintessence of Romanga's people; exuberant, robust and rugged on the outside but sincere and delicate on the inside. This great wine has been the subject of an age-old dispute between Tuscany and Romagna, over the wine's true origin. Undisputed is the fact that Sangiovese was the first wine in Romagna to be awarded the DOC. Widespread in Italy and appreciated abroad, Sangiovese has a chameleon-like personality. In fact, the production area sub-zones outline some of its different features and characteristics. Leone Conti offers it in a fresh enveloping version with Never Walk Alone, and in two deeper and more intense variants, Le Betulle and ContiRiserva.
CENTESIMINO
A red grape, native to Faenza's hills, Centesimino has a very charming history. Almost extinct due to an epidemic of phylloxera, it was saved because some vines were planted in an internal courtyard of a house in the center of Faenza, owned by Pietro Pianori, nicknamed Centesimino. The high walls protected the roots that survived the scourge and Pietro's stubbornness gave this vine a new life in Santa Lucia, a small hamlet just outside Faenza. This romantic story demonstrates how lucky we are to still be able to enjoy this grape's intriguing, rich nose full of floral notes.